Together, Microsoft + Glint unlock powerful insights
Glint is excited to announce a new partnership with Microsoft Viva, a new Employee Experience platform from Microsoft that will allow organizations to combine de-identified and aggregated employee feedback from Glint —"how people feel"—with de-identified and aggregated collaboration data from Microsoft Viva Insights —"how people work," unlocking new insights that help your leaders deeply understand key aspects of the employee experience and, most importantly, identify concrete and objective ways to improve it.
A new dashboard in Power BI—now available in public preview for joint Viva Insights and Glint customers—maps organization and team-level behavioral insights to sentiment data, enabling users to more accurately identify where teams may be struggling, proactively adjust work norms, and measure the impact of change over time.
Additionally, we are bringing Microsoft data directly into LinkedIn's Glint platform. This new capability, now in pilot, allows joint customers to analyze engagement data based on non-identifiable Viva Insights metrics, such as weekly collaboration hours, workweek span, and weekly 1:1 time with managers. This feature will allow joint customers to benefit from Glint Smart Alerts that identify populations suffering from low engagement or burnout so leaders can take action to increase wellbeing before employees decide to leave. We expect Viva Insights in Glint to be available to all joint customers later this calendar year.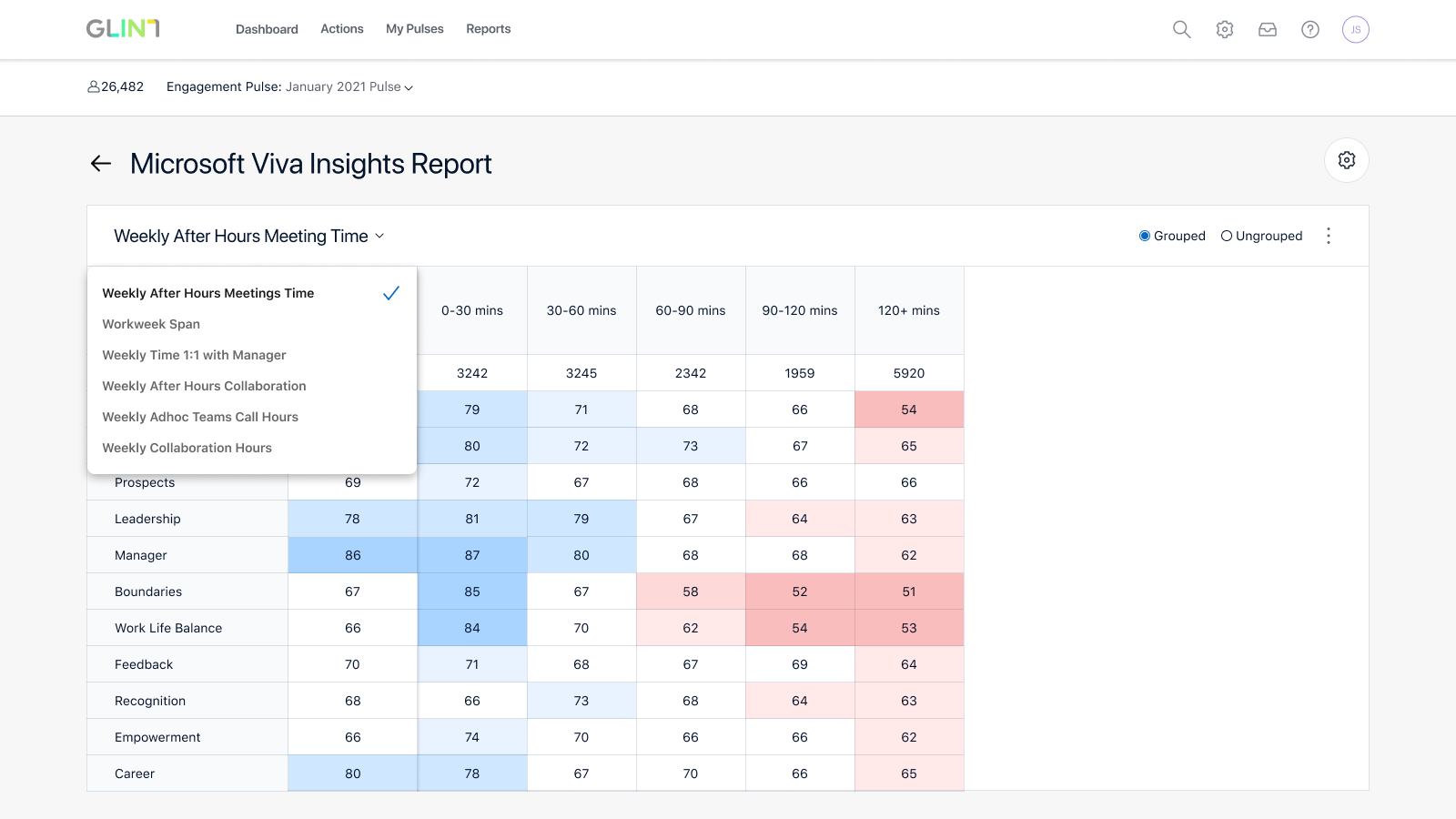 Learn more
In the coming year, Glint and Microsoft Viva will continue to partner together to help your people be happier and more successful at work. Together, we can provide leaders, managers, and all other employees with powerful insights and personalized actions directly in the tools people use everyday.
Learn more about how Glint and Microsoft Viva Insights can unlock powerful employee experience insights and action for your organization. For existing Glint and Viva Insights customers, our pilot is currently closed, however please reach out to your Customer Success Manager if you are interested in joining the pilot waitlist.