We welcome you to provide feedback on current and future product features by joining the Viva Customer Connection Program. You can sign up here. As always, our product roadmap is informed by a variety of inputs including stakeholder requests and strategic initiatives. All input is prioritized based on a framework that takes into account our product principles, goals, level of effort, and impact. We encourage feedback!
FAQs
We encourage you to bookmark this FAQ page. We will continually update FAQs as we receive them and be sure to call out the new entries. We appreciate your understanding that there will be some questions that will not have immediate answers. As transition details become finalized, we will post answers to unanswered questions and date them so you will recognize them as new information. Please check the FAQ page often! The last update to this page occurred on March 15, 2023.
The Microsoft Viva Suite
Q:  What considerations have been made in regard to server capacity? (03/15/2023)
A   We are always aware of, and proactively planning for, server capacity needs, so our approach at Microsoft will not be different.
Q:  What does the physical migration mean for standalone Glint customers? (03/03/2023)
A:  Post-physical migration, customers will begin using Microsoft Glint instead of LinkedIn Glint and will get access to benefits such as new capabilities, enhanced compliance, a refreshed user experience, and more. 
Q:  Is there any down-time for the migration process that we will need to consider? (03/03/2023)
A:  Yes there will be some downtime but we will work with you on scheduling this transition, so it doesn't disrupt your current program. 
Q:  Do we need to combine Glint and MS contracts if we already have them? (03/03/2023)
A:  Yes, all customers will need to add Glint to new / existing MS contracts. 
Q:  When should we expect outreach about migration? (03/03/2023)
A:  Starting July 1, LinkedIn will stop selling Glint, and Glint sales will transition to Microsoft. Following July 1, contract migration will be timed with your Glint renewal in most cases. If desired, we can work with you to either accelerate or delay your migration to a date that is right for you.  We will reach out with more information at least 90 days before your technical migration. 
Q:  Will MSFT be redirecting old dashboard links to new dashboard links? (03/03/2023)
A:  Yes.
Q:  If you want to transition early (ahead of our Glint renewal date) does it cost extra?(03/03/2023)
A:  No, we can work with you to coordinate your physical migration any time after our technical migration readiness date in September 2023. 
Q:  How will our data be stored? Will this be part of the migration? (03/03/2023)
(03/03/2023):  Yes, your LinkedIn Glint data will be transferred to Microsoft.
Q: What is Microsoft Viva? (2/8/2023)
A: Microsoft Viva is the employee experience platform within Microsoft 365 and Teams. With the growth in hybrid work, it is more important than ever to connect employees with an integrated employee experience that brings together communications, knowledge, learning, resources, and insights into the flow of work - this is Microsoft Viva.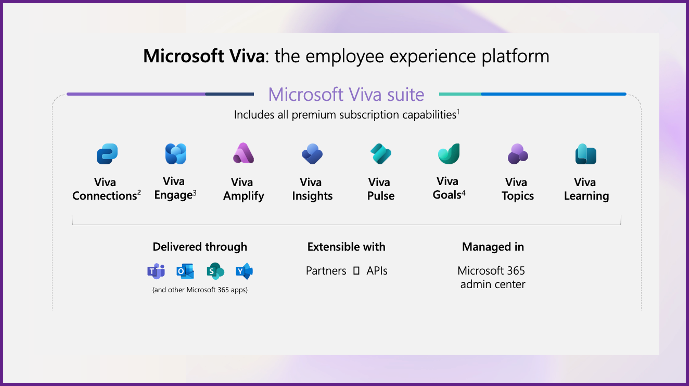 Q: Our company may switch to Viva and would like to learn more on the whole employee experience capability for the Viva platform. How can we do this? (9/28/2022)
A: Microsoft Viva supports connection, insight, purpose, and growth to empower people and teams to be their best. Learn more about Microsoft Viva here.
Q: I'd like to learn about the pricing and packaging for Viva. (2/8/2023)
A:  Keep an eye on the monthly Glint at a Glance newsletters for this information as it becomes available. You can also reach out to your Glint/LinkedIn account directors if you have more specific questions. 
Q:  How can the Viva experience help with career path development? (2/8/2023)
A:  We are committed to this as a foundational goal and recommend coordinating several Viva programs:
Tools like Teams which facilitate conversations on career development (a common opportunity area for lots of companies)
Viva Learning to provide learning paths and classes focused on career development
Viva Topics to learn more from experts in your company
Viva Goals to track individual contribution to business goals
The transition and migration process
Q: Can you help detail which of the changes on the initial transition checklist are going to happen wholesale for everyone, vs. which might need to be turned on by our IT departments? (03/03/2023)
A:  We anticipate that your IT departments will need to support initial AAD configuration as well as any SSO or SFTP changes. We will have more details as we get closer to July. 
Q: As a Glint customer, when will I transition to Microsoft Viva? (9/28/2022)
A: Customer transition from LinkedIn to Microsoft Viva will occur on or after July 1, 2023, when we are certain we can move customers with minimal to no disruption. There will be transition discussions with you months in advance to ensure an orderly transition. 
The closer we get, the clearer we will get on any actions needed, and we will communicate to ensure you are ready for a smooth transition. Until that time, your current support team will remain the same. We are deeply committed to a smooth transition for all customers as we bring Glint into Microsoft Viva.  
Q: Will the transition to Microsoft disrupt our Glint programming? (9/28/2022)
A: We are committed to ensuring minimal disruption for Glint customers leading up to and through the transition process. Existing customers can continue to use their Glint programs with the same high-quality services and support delivered by your current support team.    
Q:  When will the Glint integration into Microsoft Teams for survey administration, Nudges, and results be available? (2/8/2023)
A:  We will rebuild the Glint integration with Microsoft Teams as a robust first-party application to create a more seamless experience for users to get Glint survey notifications within Teams. We will have more information on this item in the second half of this year.
 
Q: What if my organization does not use Microsoft as an IT solution? Can I continue to use Glint without additional Microsoft products? (9/28/2022)
A:  Our goal is to give customers flexibility and choice in purchase options, and Glint will continue to be available for purchase on a standalone basis.  
We plan to continue to support customers who want to use Glint with non-Microsoft technologies; however, we believe bringing feedback, insights, and action-taking into the flow of work is the future of employee engagement. With millions of people relying on Microsoft 365 and Teams to get work done every day, we are confident that building Glint alongside these apps via Viva unlocks the most value for our customers.  •
Q:  We currently use Workplace Analytics (WpA) including PowerBI templates from WpA. Does this reporting go away? Does Viva replace this? (2/8/2023) 
A:  Workplace Analytics has been rebranded to Viva Insights, and advanced insights are a core part of that experience. PowerBI templates are also still available. Learn more at advanced insights introduction in Microsoft Learn.
 
Glint as part of the Microsoft Viva Suite 

Su
Q:  Are there benefits for current Microsoft Office 365 customers? (03/03/2023)
A:  During the transition, existing Microsoft customers are expected to have a slightly easier migration path, since they will already have AAD tenants set up. Beyond this, existing M365 customers can expect to benefit from upcoming features such as a rebuilt Teams integration. 
:te
Q:  When will the new branding be announced? (03/03/2023)
A:  The new name will be unveiled in the Microsoft event in late April. The current Glint logo, colors, etc. on the LinkedIn instance will not change. The new name, logo, colors will be available starting in July and will be visible to your organization once you make the transition to MSFT. We will be able to share actual examples with you as we get closer to July. 
Q:  I saw that Microsoft announced a product called Viva Pulse. How is that different from Glint? (9/28/2022)​​​​​​
A:  The products are intentionally very different, but complementary. Learn more on this community page.
Q:  Can survey notifications and reminders be sent through Viva and Teams efficiently?  Can people take the survey from either platform? How mobile- friendly would this connection be for companies with an employee base that works off of phones or tablets? (2/2/2023)
Teams is an important part of the Microsoft Viva employee experience, and we will explore how to best leverage the technology to bring Glint and Viva Pulse into the flow of work for a variety of populations.
 
Q: How should I think about Glint, Pulse, and Insights? (2/8/2023)​​​​​​
A: As a way to empower every role in your organization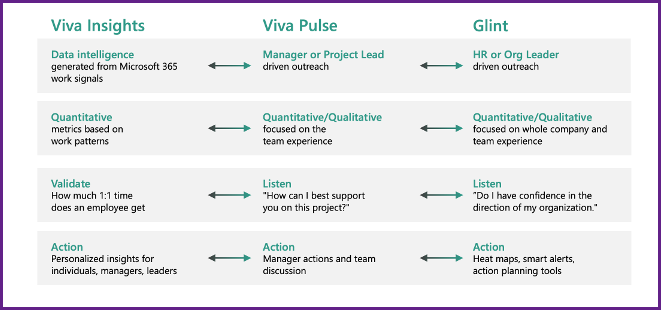 Q:  Will a leader be able to see the data from Glint surveys and the data from Viva easily, all in one place? (2/8/2023)​​​​​​
A:  That's certainly the vision! The great thing about being part of Microsoft is embedding insights into the flow of work and making it easier to understand what's happening within teams and take action. We are working on integrations to send data from Glint to other Viva apps and vice versa, prioritizing integration between Glint and Viva insights to start. 
Q:  Are there plans to allow customers to get combined insights from Glint, Viva, and LinkedIn? (2/8/2023)​​​​​​
A:  There is a lot of potential here and we are exploring multiple ways of integrating Glint insights and action taking across Viva. Our initial focus is on combining behavioral data from Viva Insights with Glint, but we are excited about the many ways we can bring multiple data sets together to increase engagement and deliver a better employee experience.
What's ahead for Glint when it moves to Microsoft Viva
Q: When will we see a detailed preview of new product enhancements? (03/03/2023)
A:  We will have a more comprehensive roadmap of product enhancements as we get closer to the transition of Glint to Microsoft, expected in July 2023.  
Q: Will there be an API available for us to import data into our internal BA system? (03/03/2023)
A:  Importing and exporting data inside and outside of Glint is on the roadmap but we don't have a specific timeline at this time.  Our ability to integrate with HRIS systems is a top priority as is extensibility for Viva overall.   
Q:  Will new product enhancements be available on LI Glint? (03/03/2023)
A:  As of July 1st, new product enhancements will only be deployed to Microsoft  Glint. We will still take care of and maintain LI Glint. 
Q:  When will the Comment Explorer be available? (03/03/2023)
A:  This is an early prototype and exploration of what we can do with Open AI technology. As we get closer to a final design, we will communicate availability accordingly. 
Q: When will we have a longer product roadmap that goes beyond migration? (03/03/2023)
A:  Our current focus is work related to our migration and compliance commitments, which will take us through July, 2023. As we get closer to that time, we will be better able to plan for a longer roadmap that goes beyond migration efforts. 
Q:  Will there be any options for servers in Australia? (03/03/2023)
A:  Microsoft does not have servers in Australia and, at this time, there are no immediate plans to add any. 
Q:  Is there a plan to make more Glint content in the Community in other languages? (03/03/2023)
A:  As we migrate Glint Community content into new locations within the Microsoft Viva ecosystem, we will be able to take advantage of translation features. If you would like to see an example, please visit learn.microsoft.com and scroll down the bottom left of the page you will see the ability to translate into many languages. Please note, not all resources will be available in all languages.  
Q:  Will Glint be getting updated functionality? (2/8/2023)
A:  You will see a mix of product enhancements! We will provide more details about these updates as they get closer to release, but you can expect them to include: 
Increased security, privacy and trust as part of Microsoft 365 compliance activities 
Expanded product focus on inclusion, accessibility, diversity, and global usability
The ability to export translated content into XLXS format
Expanded attrition risk signals to use for insightful collaboration and decision making 
Enabled external benchmarks inside Glint 
As always, our product roadmap is informed by a variety of inputs including stakeholder requests and strategic initiatives. All input is prioritized based on a framework that takes into account our product principles, goals, level of effort, and impact. We encourage feedback!
Q:  In addition to enhancements, what other benefits will come along with the move to Microsoft? (9/28/2022)
A:  Because Viva is powered by Microsoft 365 and Microsoft Teams, the new Glint in Viva experience will be a first-of-its kind employee engagement solution built alongside the productivity apps people use every day. We believe this will uniquely enable our customers to drive behavior change at scale, as managers and teams will have a seamless way to incorporate feedback and action-taking into the flow of work.
Q:  Will there be changes to the reporting functionalities for the Focus Area actions? (2/8/2023)
A:  Our focus is currently on compliance-related activities. In the second half of the year, we will be in a better position to reevaluate our roadmap, including how we improve features like Focus Areas.
Q:  Can Employee level details be exported from Viva so that it can be loaded into Power BI (or similar) along with Glint data and then aggregated there to maintain employee privacy as needed? (2/8/2023)​​​​​​
A:  Our plan is to provide customers with the ability to opt in for raw data exports of survey data.
Q:  Will Glint and Microsoft Viva integrate with other HR tools for things like performance management, employee feedback and analysis?  (9/28/2022)
A:  Yes, Viva provides an open and extensible platform, and we remain committed to supporting customers who want to use other tools to manage different parts of the employee experience. 
What can I expect around support? 
Q:  How will customers receive consistent support with CSMs and on the Community if customers are migrating to Microsoft at different times? (03/15/2023)
A:  Making sure that our customers have consistent support is our primary focus as we create the detailed migration plan. We will share more details on this as soon as possible.  Community and support resources will be available on the current Community site as well as on the new Microsoft sites (content will be copied to these sites starting in July 2023) for all customers to find what they need when they need it. 
Q: How will I receive support? (9/29/2022)
A:  Your account team will continue to deliver your current level of services and support through the term of your Glint contract. We will also continue to deliver resources to keep you informed of upcoming product releases, new knowledge base content, updates through the Glint Community site and recommended best practices from our People Science team.